AWARD SUBMIT
Welcome to the SELOUS SCOUTS awards page. To encourage web site design on military issues, we are proud to announce the OSPREY ELITE AWARD. We present this award for military excellence in a website. The objective of the Osprey Elite Award is to give formal recognition and encouragement to web site developers who have created sites that are of military interest. Sites will not be considered if they do not have a Military Theme.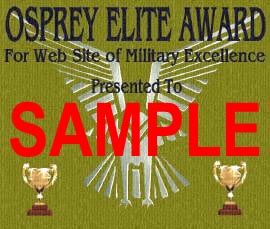 When this award is given, it is given for one or more of the following reasons:
· Educational in a military sense

· Militarily historical

· Military / veteran causes and associations

· Uniqueness in theme

· Detailing personal military experiences
The Osprey Elite awards are not just given out frivolously. The following criteria apply:
The web site must be of military interest / relevance (as stated above)
The web site does not need a link to this site to qualify for the award
No extremist ideologies / agendas (unless it is historically relevant to your site i.e. You don't promote it)
The site must be free of web tastelessness
All links must be working
The site must show neatness of design, original art work, no plagiarism etc.,
SUBMIT
To submit for the Osprey Elite award, you must E-mail (taldozer@aol.com) the webmaster with the following information. The subject line of the message should read "OSPREY" and the message should have the following;
· URL
· Title
· A brief description
· Your name
Sites without the above format or information will not be considered.
Web site developers, who are awarded the Osprey Elite award, will be sent a jpg image. The image and citation may then be posted on the award-winning site.
Finally; GOOD LUCK!!