FIREFORCE OPERATIONS

Perhaps the most successful counterinsurgency tactic used by the

Rhodesians was the joint Air Force and Army "Fireforce," a heliborne reaction team developed in the early stages of Operation Hurricane.

Using helicopters provided by South Africa, the Rhodesian Air Force devised this particularly effective means of vertical envelopment. Original Fireforce typically consisted of four Alouette III helicopters, each manned by a pilot and technician/gunner. Three of the helicopters, referred to as "G-cars," were used to transport four fully quipped troops, while a fourth helicopter, called the "K (for kill)-car," carried a pilot who was the senior Air Force officer, a gunner-

technician, and the Army unit commander, who directed the operations below. The "K-car" could also be used as a gunship when required (hence, its appellation).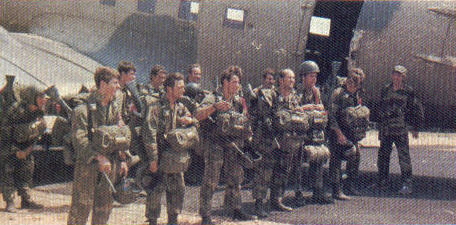 The four helicopters were supported by a fixed-wing aircraft equipped with rockets and machineguns. In the early stages of the conflict, this was usually a single-engine Aermacchi-Lockheed AL-60 Trojan. A particularly noisy aircraft, the AL-60 generally preceded the helicopters, effectively blotting out the noise of their engines and helping to maintain at least a modicum of surprise about the impending ground attack. The initial helicopter-deployed contingent of 12 Rhodesian Light Infantry or LRI, the Rhodesian Army's commandos, or paratroops would be supported by additional ground troops, who also carried fuel for the helicopters.
Later in the conflict, the regular Fireforce unit was expanded to six helicopters and was referred to as a "Jumbo Fireforce." This number of helicopters and troops was about as large as a single commander could effectively control. Other variations consisted of a heliborne mortar unit that would be deployed from the "G-car," which would then act as the unit's aerial spotter." The lack of helicopters prevented the creation of more Fireforce units as the insurgents increased their area of operations. To relieve the situation, a stick of paratroopers was added to each Fireforce complement. The paratroopers were transported over the targeted area in a World War II-era DC-3 Dakota fixed-wing transport plane and then dropped to support the smaller heliborne-deployed force already on the ground.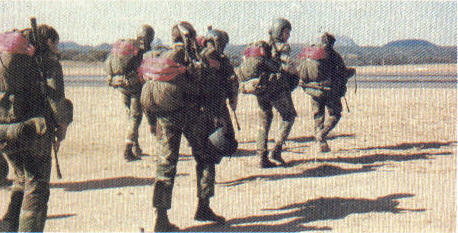 The Fireforce was used most successfully in tandem with information on insurgent locations obtained from static observation posts, Selous Scouts "pseudo-operations," and other ground intelligence sources. As an immediate reaction force, it could be also scrambled whenever any ground forces required support. This was a great morale builder for the average soldier, who knew that assistance was only 30 minutes away at the most. Demands on the Fireforce continued to increase during the closing years of the conflict, to the point where it was not unusual for it to be deployed as often as three times a day in certain heavily contested areas.