The Rhodesian Army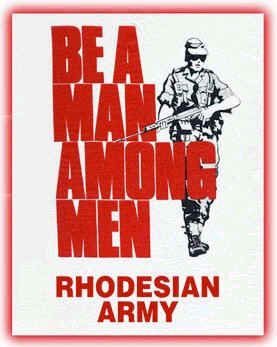 1977 CIRCA
This is a basic table of organization or order of battle, of the Rhodesian Army as it appeared in 1977. it lists the major player/units in the Army and gives you an idea of manpower and ethnic breakup. Note that the Selous Scouts are well seated and highly recognized within the Army.
Regulars
Rhodesia Regiment

:

8 battalions (600— 700 men, all white) with recent addition of colored and Asian reserve.
Rhodesian Light Infantry: 3 commando units and 1 weapons support group (about 1000 men, all white); between one-quarter and one-third mercenaries.
Rhodesian African Rifles: 3 battalions (600—700 men, all black) with white officers.
Rhodesian Artillery (1st Field Regiment): 1 regular battery of 105mm howitzers and 1 reserve battery of 25-pounders; white officered.
Support and administrative troops: (signals, engineers, pay corps etc) all white officered.
Rhodesian Armored Car Regiment: About 400 men, black and white; duties include reconnaissance, patrolling, convoy escort, crowd control and manning road blocks.
Irregulars
Special Air Service: 3 squadrons (60 men each, all white); specialize in

laying counter-insurgency ambushes and raids.
Selous Scouts: About 1000 men, large majority of blacks; some mercenaries; specialize in pseudo operations, mantracking and abduction (snatch) missions.
Grey's Scouts: 150—200 men, black and white; horse-mounted infantry for tracking, pursuit and patrolling.
Zimbabwe National Army
circa 1991
The Zimbabwe National Army (ZNA) has 47,000 personnel. It is built around seven brigades, including a Presidential Guard Brigade and an armored regiment. Other units include 26 maneuver battalions (three Presidential Guard, one mechanized, one commando, two paratroop, one mounted, and 18 infantry). Support units include an artillery regiment that includes two air-defense batteries, and an engineer support regiment. The force is maintained partly through conscription.
The ZNA is characterized by a number of quality units as well as an overall high quality of personnel. This is due to an emphasis on training that reflects British military assistance in the 1980s, as well as the ZNA's once heavy involvement in Mozambique's insurgent war, maintaining the Beira rail and road corridor that is landlocked Zimbabwe's main trade lifeline.