The Selous Scouts were formed in 1974 following Rhodesia's Unilateral Declaration of Independence (UDI) in November 1965. By 1973 guerrilla activity had developed into a major campaign, strengthened by the Portuguese withdrawal from neighboring Mozambique. The Selous Scouts, named after Fredrick Selous, a close friend of the country's founder Cecil Rhodes, were originally trained as a tracker-combat unit with their prime role being one of deep penetration and intelligence gathering.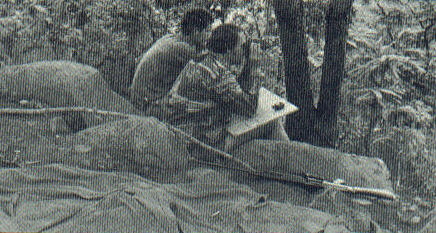 Selous Scouts conduct intell gathering from a LP/OP.
At the height of the war in 1976, the Selous Scouts, which numbered about 700 men, were under the command of Colonel Reid-Daly, a Rhodesian who had served with the SAS in Malaya. They worked in small units of four to six men who would parachute or heli-hop into the bush in hot pursuit of ZIPRA and ZANLA guerrillas. The Selous Scouts were lightly equipped, carrying mostly ammunition and water which enabled them to quickly track and close on the fleeing guerrillas. Once spotted, the Scouts would call for soldiers of C Squadron Rhodesian SAS to parachute forward of the guerrillas in order to cut them off. The Selous Scouts' methods were so effective they accounted for more guerrillas than the rest of the Rhodesian Army put together. Along with the Rhodesian SAS, the Selous Scouts were disbanded in 1980 when the Prime Minister Ian Smith handed over to Robert Mugabe's government and Rhodesia became Zimbabwe. Most of the Selous Scouts made their way into the South African Army.
(END)